Innovative funding solution enables Arlington Toyota to install solar with no upfront costs while retaining full ownership of the system
Arlington Toyota, one of top 100 largest car dealerships in the US, has installed a 1,734-module, SolarEdge DC-optimized solar array on the rooftop of its 2.9-acre building in Palatine, Illinois. In the first five months of operation, the system generated 256,930kWh of clean, renewable energy, offsetting 50% of the site's high energy use and reducing CO2 emissions by 128 tons.
The project was made possible by an innovative funding solution provided by installer Solar One, of Sherman, Texas.
"For some time, we have been trying to bring the benefits of solar energy to large private companies and smaller public ones. The up-front investment required has been a hurdle we were finally able to overcome with this project," commented Aaron Wilson, CEO, Solar One.
The solar installation was built and financed by Solar One, which will recoup its investment once Arlington Toyota becomes entitled to several incentives, including Solar Renewable Energy Certificates (SRECs), rebates from the state of Illinois and Federal Investment Tax Credit. The DC-optimized solution was chosen due to its ability to maximize energy production – key to making the project an attractive investment prospect.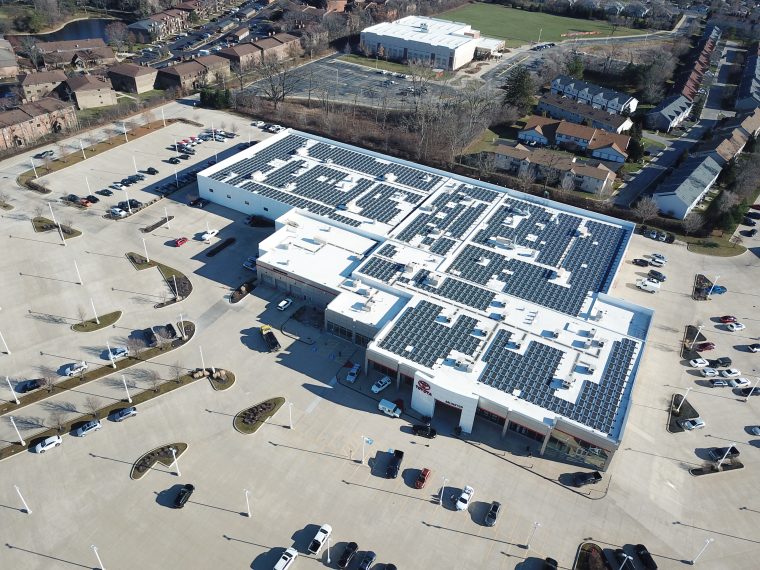 "SRECs become payable upon certain production targets being achieved, which means it is in the interests of both Solar One and Arlington Toyota that the technology we install will produce the most energy possible," Wilson said. "We started talking to SolarEdge about four years ago, and once we realized what the technology could do, we were all in from that point. SolarEdge is now an important part of our identity, and it has enabled us to offer something unique in the market."
The scope of the installation at the Arlington Toyota site includes five SolarEdge 100kW inverters and SolarEdge Power Optimizers, which are attached to each pair of modules to enable independent operation. This increases energy production by mitigating the effects of soiling and shading, which can limit production in traditional inverter systems. It also increases space utilization by allowing modules to be installed almost anywhere on the roof, including around obstructions, bringing further production gains.
SolarEdge Power Optimizers can also be remotely monitored for production information and fault detection. In the unlikely event of a technical problem, Solar One will be sent an automatic notification pinpointing the exact location of the suspected fault, enabling repairs to be conducted swiftly and easily. This will result in significantly reduced maintenance costs over the lifetime of the project, contributing to an attractive expected ROI of seven years.
"Following the success of the Arlington Toyota project, we have since funded projects for several other similar sized businesses in the U.S.," Wilson said. "Our solution means that customers can install solar with no upfront cost and enjoy 100% of the benefits and the energy it generates."
Gary Vicari, president, Arlington Toyota, comments: "At Arlington Toyota, we pride ourselves on doing the right thing for our customers, the environment and for the quality of life for local people. As part of that, we have undertaken a number of renewable energy projects – the largest of which is the solar installation. With the technical superiority of the SolarEdge solution and the innovative funding arrangement provided by Solar One, we have been able to harness the benefits of solar energy with almost zero cost to ourselves. The solar installation is a tremendous asset to our business, our image and to our electricity bill, which is now 50% reduced from what it used to be before we installed the system."