Subaru of America and Annapolis Subaru recently presented Hope For The Warriors a check for $50,000 that was raised during the retailer's annual Share The Love event.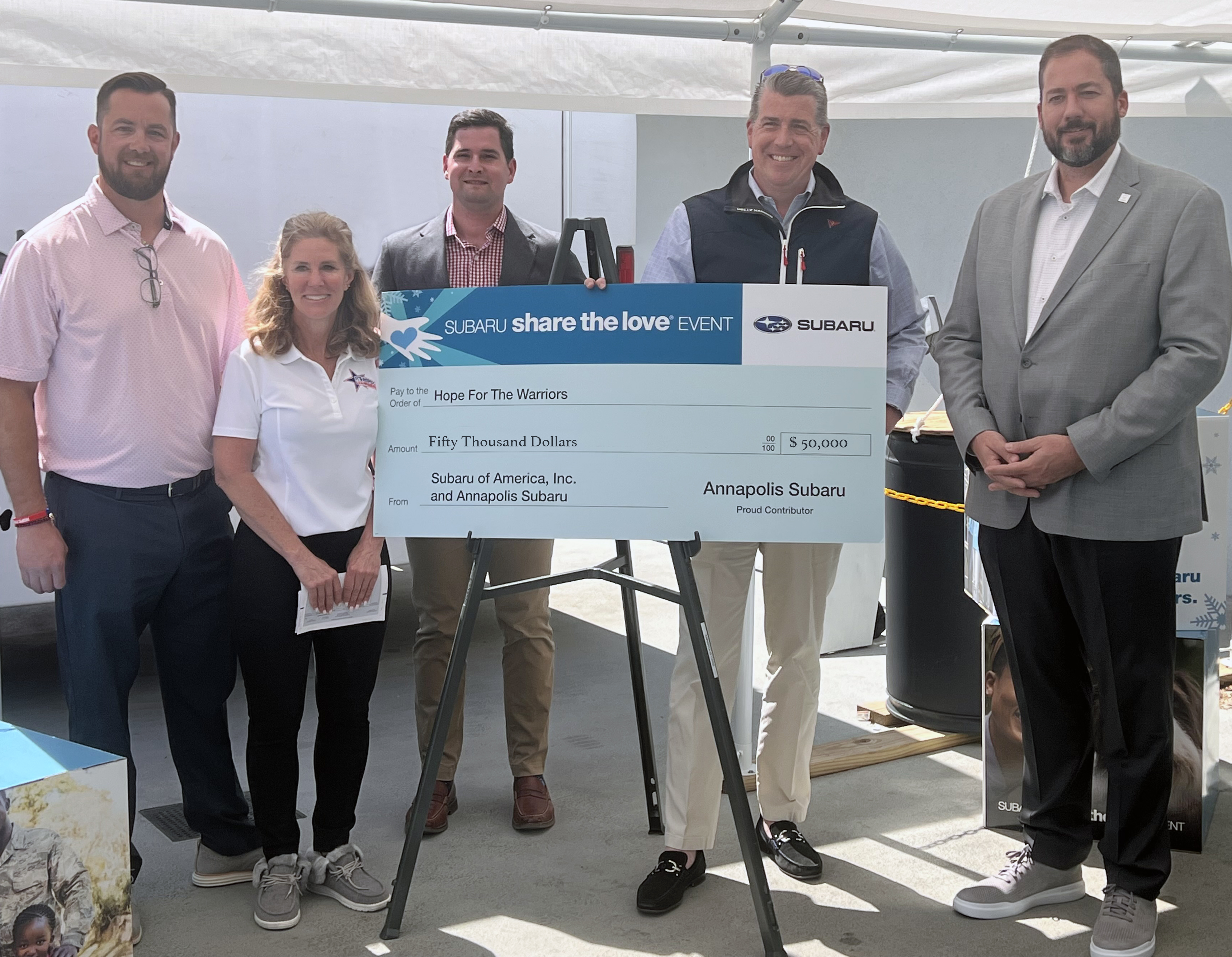 From November 17 to January 3, customers who purchased a new Subaru from Annapolis Subaru had the option to select Hope For The Warriors, amongst four other national charities, to be the recipient of a $250 donation from Subaru of America. Annapolis Subaru increased the donation amount by adding $50 per new Subaru sold along with $5 per oil change performed during that same time period.
"Working with Hope For The Warriors before, during and after the Subaru Share The Love Event has been truly eye opening," shared Billy Sadtler, general manager for Annapolis Subaru. "The work they do to help support veterans, members of our active-duty military and their families is amazing. Most of us who did not serve in the military are unaware of the hurdles these warriors face each day transitioning back into civilian life. We are proud to help broaden awareness of their work and to help financially support the transitioning members of the military served by Hope For The Warriors."
Based in Northern Virginia, Hope For The Warriors is a national nonprofit that has served over 53,000 post 9/11 service members, veterans and military families by providing financial, career and educational stability; physical and emotional strength; and social support that builds community.
"Annapolis is a respected military community with both a military base and a service academy," shared Robin Kelleher, co-founder and CEO for Hope For The Warriors. "With this generous donation from Subaru of America, Annapolis Subaru, and its customers, we at Hope For The Warriors are able to better support military families in their communities."
Over the last 14 years through the Subaru Share the Love Event, Subaru of America and its retailers have donated over $227 million to national nonprofits and over 1,700 hometown nonprofits.